Da qualche settimana non si fa altro che parlare del nuovissimo sistema operativo di Google per tutti o quasi i device che utilizzano questo sistema operativo, stiamo parlando di Android, che è arrivato ad Android Jelly Bean 4.1.1.
Nella giornata di oggi finalmente è stato rilasciato in maniera definitiva l'SDK per gli sviluppatori Android, del nuovo sistema operativo Android Jelly Bean.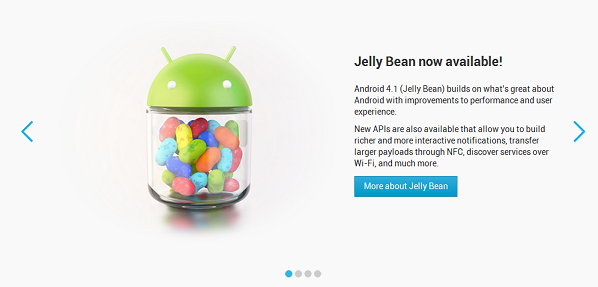 Il tutto è stato affermato dall'Android Developer che ha affermato il rilascio della nuova versione è la nuova numerazione presente, essa contiene il codice corretto e ripulito da diversi bug e la versione  è la 20.0.1.
Ecco  per chi è interessato il chaneglog:
Dependencies:
Android SDK Platform-tools revision 12 or later.
If you are developing in Eclipse with ADT, note that the SDK Tools r20.0.1 is designed for use with ADT 20.0.1 and later. If you haven't already, update your ADT Plugin to 20.0.1.
If you are developing outside Eclipse, you must have Apache Ant 1.8 or later.
Bug fixes:
Fixed wrong check on build state that forced repetitive Java code recompilation.
Fixed problems with running more than one emulator and running multiple emulators with GPU acceleration.
Improved resize algorithm for better rendering on scaled emulator windows.
Fixed a bug in the lint check for unprotected broadcast receivers to ignore unprotected receivers for default Android actions.
Fixed build issue for projects using Renderscript.
Fixed memory leak in the emulator.
Per chi invece ne vorrebbe sapere di più su questo SDK può seguire questo link.