Nel corso dell'evento "Windows10devices" appena conclusosi a News York, Microsoft oltre ai nuovi smartphone Lumia, a Surface Pro 4 e a Surface Book ha dato spazio anche ad un nuovo Microsoft band, ora giunto alla seconda generazione.
Il nuovo Band 2 migliora del predecessore sicuramente il design, adesso ancora più curato ed elegante, con un display incurvato con protezione Gorilla Glass della Corning.

Tantissimi i sensori presenti, ai quali si aggiunge un barometro, oltre alla sempre presente possibilità di interagire con Cortana, inviando e leggendo sms dal proprio smartphone e molto altro.
Grande novità è rappresentata anche da un inedito sensore di rilevazione del VO2Max che con uno scarto di errore dell'1-2% consente di misurare la quantità di ossigeno che il corpo sta utilizzando.
Ecco nel dettaglio alcune specifiche tecniche di Band 2:
Material
Thermal plastic elastomer silicone vulcanate (TPSiV)
Display Size
32mm x 12.8mm
Display Type
Curved AMOLED
Resolution
320×128 pixels
Battery
48 hours
Average Charge Time
Full charge in less than 1.5 hours
Battery Type
Li-polymer
Operating Temperature Ranges
-10°C to 40°C (14°F to 104°F)
Maximum Operating Altitude
-300m to +4877m
Sensors
Optical heart rate sensor3-axis accelerometer

Gyrometer

GPS

Ambient light sensor

Skin temperature sensor

UV sensor

Capacitive sensor

Galvanic skin response

Microphone

Barometer

Additional Technology
Haptic vibration motor
Connectivity
Bluetooth 4.0 LE
Supported mobile devices
Windows Phone 8.1 update or greateriPhone 5, 5C, 5S, 6, 6 Plus with iOS 8.1.2 or greater

Android™ 4.4 or later phones with Bluetooth

Charge Cable Connector
Custom charge cable
Water Resistance
For water-resistance details and limitations, see
Corning Gorilla Glass 3 curvo anti graffio
GPS
Monitor UV
Controlo calorie
Barometro
Analisi del sonno
Tracking golf
Compatibile con Windows, iOS e Android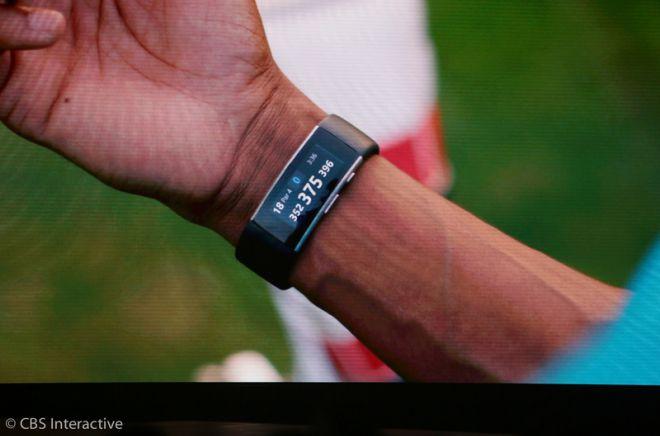 Compatibile dunque con Windows, iOS e Android, Microsoft Band 2 sarà disponibile a 249 dollari a partire dal prossimo 30 Ottobre.
Ottimo lavoro svolto anche in questo campo da Microsoft, vediamo se effettivamente riuscirà ad entrare nel campo dei wearables e riuscire a conquistare una fetta di mercato.