Eccoci oggi a trattare un argomento molto sentito per gli "smanettoni" del PC, ovvero il famosissimo tool che permette l'overclock di schede video targato MSI, stiamo parlando di Afterburner.
Il tool è molto semplice da usare e permette attraverso piccole regolazioni di aumentare i Mhz della vostra schede video sia per quanto riguarda il Core che per quanto riguarda le memorie di essa.
Oggi vogliamo solo proporvi la nuova versione dell'utility che porta come numerazione 2.2.4, porta con se delle piccole migliorie.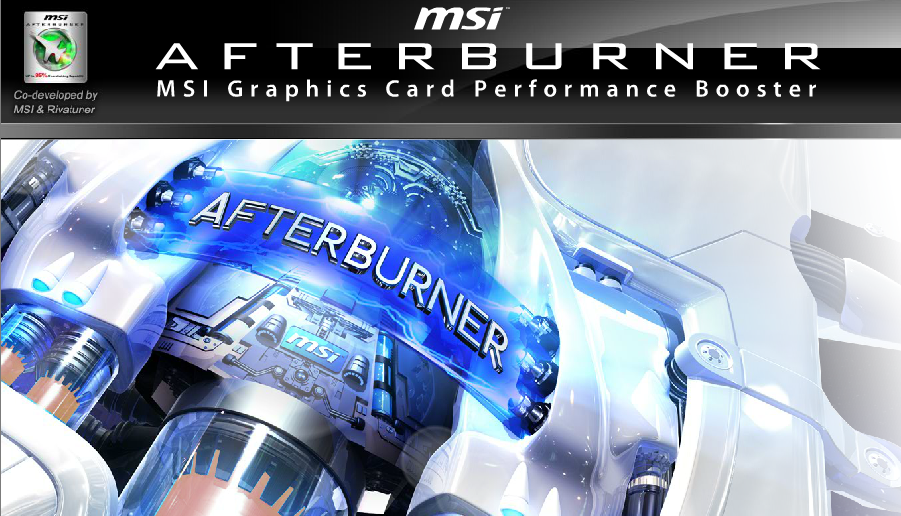 Per ora vi lasciamo al changelog completo del programma e a breve vi mostreremo, attraverso una recensione il funzionamento di tale tool, molto semplice per chi cerca quel boost in più per la propria scheda senza "impazzire" troppo o cercare soluzioni più difficoltose e per persone molto più esperte.
Ecco a voi il changelog:
User extendable architecture:
You may express your creativity and design your own skins for MSI Afterburner, develop additional applications (e.g. sidebar gadgets for Windows Vista / Windows 7) interacting with MSI Afterburner or create language packs for your native language. Show the community what can you do and share results of your work with thousands of other users
Basic overclocking and fan control features:
Include full multi-GPU support, independent shader clock adjustment (NVIDIA GeForce 8 or newer series cards), overclocking and fan control profiles with hotkey based activation abilities
Basic screen capture features support:
BMP, PNG and JPG formats supported
Advanced fan control:
Most of fan control tools allow you to use either fixed manual fan speed mode or default automatic fan speed mode, where the fan speed automation is performed either by dedicated hardware chip or by display driver depending on graphics card model. In addition to these traditional fan control modes Afterburner also provides user defined software automatic fan speed mode allowing you to define your own fan speed curve. New mode combines flexibility of RivaTuner's fan speed scheduling technology with new and really easy to use graphical interface for visual fan speed curve editing
Hardware health monitoring:
Includes popular tray icon, Logitech LCD and On-Screen Display monitoring modes and history logging in native RivaTuner hardware monitoring log file format
Automatic profiles management system:
Allows experienced users to define their own dynamic ownclocking rules on the systems with no hardware downclocking support or program different fan control modes for 2D and 3D applications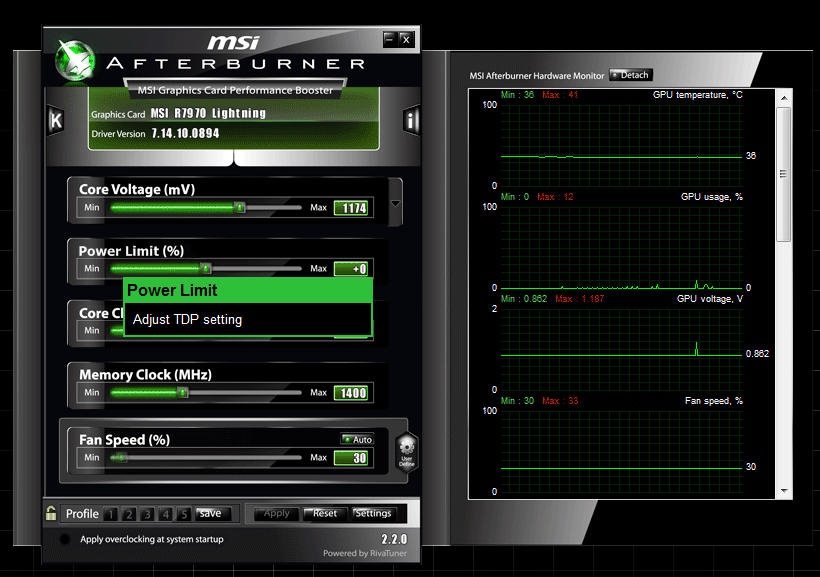 Core, auxiliary VDDCI/PEXVDD and memory voltage adjustment support:
Gives more freedom to hardcore overclockers.
Changes list includes:
• Added new graphics cards support.
• Change the NVIDIA Kepler series voltage control mode.
Inoltre per chi volesse provare il programma potrà scaricare il file di installazione da questo link: